If you're carrying balances on credit cards from department stores, gas stations or other financial institutions, you could be paying annual interest rates as high as 29.9%.
By moving your outstanding balances from other high-interest rate credit cards to a low interest rate enviro™ Visa* card,1 you can simplify your monthly payments, pay off your balance faster and save big on interest. It's easy to do and there's no fee.
Balance transfer tips.
To get the most out of your balance transfer:
Transfer credit card balances with the highest interest rates first.

Write a detailed budget and set aside as much as you can spare to pay down your balance each month.
Pay less interest.
You can save a lot when you transfer your high-interest rate credit card balances to your enviro Visa card. Over time, even transfers as small as $1,500 can make a big difference to how much interest you will pay. You could save more than $100 in interest charges in just one year.
If you regularly carry a balance, you may also want to consider switching to our low-interest rate enviro Visa card.
There's no fee.
Other financial institutions typically charge a fee of between 1% and 5% of the balance being transferred, which can really add up. A balance transfer fee of 3% on $1,500 is $45!
When Vancity transfers your balances from other cards, there is no transfer fee.
It's easy.
Transferring high-interest credit card balances to your enviro Visa card is simple:
Log in to the Manage my Visa card website to see how much credit you have available on your enviro Visa card.

You can transfer any amount up to your available credit limit, at any time2.

Request your balance transfer by calling us at 604-877-4999 or 1-800-611-8472 (toll-free).
Your balance transfer will be processed within 7-10 business days from the date the request is received.

To be eligible for a balance transfer, your account must be in good standing at the time of processing. Balance transfer amounts do not qualify for Vancity Rewards points and are only allowed in Canadian currency between Canadian financial institutions. Interest accrues from the date the transfer amount is charged to a Vancity Visa Card Account. The 21-day grace period does not apply to a balance transfer.
Reach your financial goals faster.
If you're carrying a balance, check to see if one of our low-interest rate credit cards is right for you.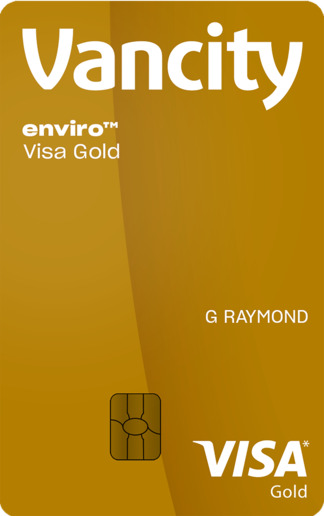 enviro Visa* Gold card
Low interest rate
A great option if you carry a balance and want a low interest rate card.
Key benefits
Common carrier travel accident insurance up to $500,000§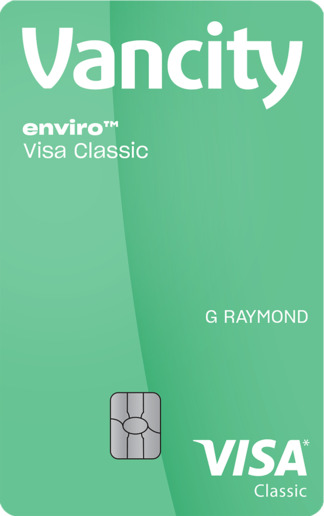 enviro Visa* Classic card
Low interest rate
A great option if you carry a balance and want a low interest rate card.
Key benefits
Common carrier travel accident insurance up to $200,000§