Vancity enviroFund™ program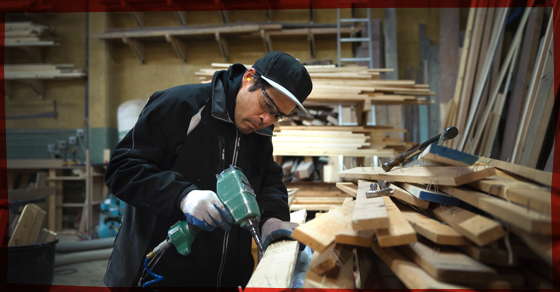 Every year, five per cent of Vancity enviro™ Visa* card profits go to support the Vancity enviroFund™ program, which invests in local, innovative solutions to improve the environmental wellbeing of our members and communities. Since 1990, Vancity enviro™ Visa Visa cardholders have helped raise $8.6 million to support local organizations working to address environmental concerns and build the sustainability of our communities, just by using their enviro Visa credit cards for daily transactions.
Between 2012 and 2017, the Vancity enviroFund™ focused on supporting the development of a sustainable local food system, which will continue to be encouraged through our Community Partnership Program. In 2018, we're launching a new focus for the Vancity enviroFund™ program: to support "lighter living" initiatives that foster more sustainable communities by encouraging us all to consume less, waste less, live more and share more.
That's right: the Vancity enviroFund™ will be supporting projects that help enviro Visa cardholders, and everyone in our local communities, to live lighter and gain more of what matters - more time for connecting with others, quality goods, affordable lives, health, etc. The Vancity enviroFund™ investments we make over the next five years will support local businesses, organizations and non-profits that are helping our communities find the innovative solutions we need to consume less, and live happier and well-balanced lives.
Why would a credit card company ask you to spend less? The answer isn't that surprising: at Vancity, we believe in making your money work harder for you, while it's also doing good things in your community and the world. Lighter living isn't necessarily about spending less, it's about spending wisely with the future in mind. Where you bank matters, and we think how you invest your money and time matters too.
Vancity enviroFund™ 2018 - 2022
Beginning in 2018 and over the next five years, Vancity enviroFund™ will invest in projects and initiatives that support sustainable consumption and production practices in our communities. Support will be provided for projects in three priority areas:
Community sustainability projects: Projects that promote and improve sustainable consumption and production practices (including reducing the amount of material goods we consume);
Strategic sector initiatives: Projects that support the development of sustainability and business-savvy strategies to reduce our ecological footprint; and,
Public advocacy and education: Projects that lead, convene and amplify the public conversation on sustainable consumption and reducing our ecological footprint.
For more information on 'lighter living' and the 2018 criteria and application process, click the links below
™enviro, Vancity enviroFund, and Vancity are trademarks of Vancouver City Savings Credit Union.
*Trademark of Visa International Service Association and used under license.