Build your down payment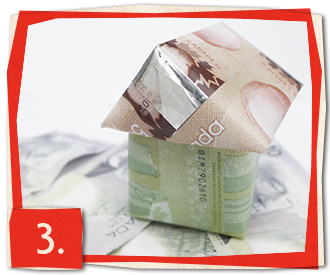 Increasing the size of your down payment can be a very good idea.
The bigger your down payment, the smaller the mortgage you'll need for the purchase of your home. With a smaller mortgage, the smaller the payments you need to make, and the less overall interest you'll pay.
Saving money
If you need to save for your down payment, we can help you reach your goal faster. Vancity's longer term savings products such as the 3-year escalating term deposit are a good choice if you're a first-time home buyer who plans to look for a home in a few years. If you plan to buy a home sooner, our shorter term products, such as the cashable 1-year term deposit or a Jumpstart high-interest savings account can help you earn higher interest rates while keeping your money accessible.
Consolidating debt
As a first-time home buyer, you may want to look at debt consolidation. Consolidating your debt under a single loan can help you minimize interest costs and pay off debt sooner so you can get your mortgage faster.
Did you know?
To get your first-time home buyer's mortgage faster, you can use up to $25,000 from your RRSPs for your down payment.
Using your RRSP savings
You can withdraw up to $25,000 in RRSPs per person in one calendar year without penalty to buy or build a qualifying home. There are some rules, though:
You must wait at least 90 days after your RRSP contribution date before you can withdraw RRSPs for a down payment.
After a two-year grace period, you will need to start repaying the RRSPs you withdrew. If you don't repay them within 15 years, the outstanding amount will be added to your taxable income.
Visit the Government of Canada Home Buyers' Plan for more information on withdrawing RRSPs for a down payment.
Leveraging government programs
Qualified first-time home buyers can borrow up to $37,500 through the newly created B.C. Home Owner Mortgage and Equity Partnership program. Some key highlights of the program:
The program will match up to 5% of the purchase price of your first home in the form of a repayable loan.
You don't pay any interest or principal in the first five years.
Program starts January 16, 2017 and will run to March 31, 2020.

Visit BC Housing for more information on the program and qualification requirements
Using monetary gifts
You can put gifts of money from family and relatives towards a down payment. If you do, you may need to show where the money came from and confirm it's non-repayable by providing bank statements and a letter from the gift-giver.
Talk to us
To apply for a mortgage or get answers to your questions, please make an appointment to meet with a mobile mortgage specialist, visit a branch, or call our Member Services Centre toll-free at 1.888.826.2489.