Buying your first home in Canada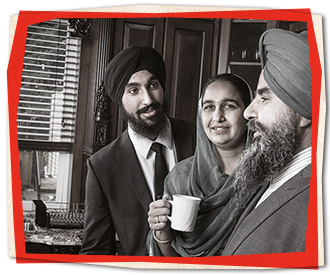 If you are new to Canada, buying a home can be an important financial goal and an investment in your new future.
But understanding your financial options in a new country can be challenging, especially if you are a first-time home buyer who has never owned a home in any country.
At Vancity, we're here to help you understand your options, make the right decisions and obtain a mortgage to finance your first home.
Let's start with the basics. As a home buyer who is new to Canada, you may need to take some extra steps to prepare:
Prepare your documentation
Be prepared to provide documentation that shows you have worked full time in Canada for a minimum of three months. If you are in the country on a work visa, you must provide valid documentation or verification of your landed immigrant status.
Build your credit profile
If you are new to Canada, it is important for you to start building a credit history right away. To start, you'll need:
An international credit bureau report (if you came from the US). Vancity can request this report for you.
A bank reference letter from your previous financial institution (if you came from outside the US). Find out more about the documentation you may need by speaking with a Mortgage Specialist today. We can help you create a plan for building your credit history so that you'll qualify for a mortgage.
Choose a down payment
Your down payment is the amount of money you provide towards the purchase of your home:
Non-permanent residents must make a minimum down payment of 10% of the purchase price.
Permanent residents can make a minimum down payment of 5% of the purchase price.
In either case, if you make a down payment of less than 20% and you are a first-time home buyer, you must obtain mortgage insurance through an approved high ratio insurance provider. Vancity can help you make the necessary arrangements.
Book an appointment
A Vancity mortgage specialist is waiting to help you make the right choices for your first home purchase.
Whether you want to talk things through, receive friendly advice on first-time home buyer mortgages, or get pre-approved for a mortgage so you can look for your new home with confidence, we give you a choice of convenient options:
By phone
Metro Vancouver
604.877.7000
Greater Victoria
250.519.7000
Toll-free
1.888.826.2489
In person
Visit a branch or meet with a mobile mortgage specialist
Online
The online application should take 5 to 20 minutes.