Explore your mortgage options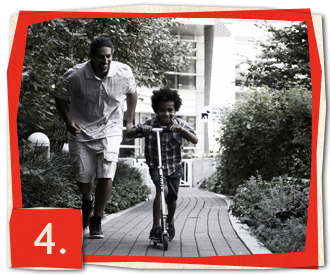 For your first-time home buyer's mortgage, you'll want a mortgage that fits your needs perfectly and helps you make the most of your investment in a new home.
At Vancity, we give you access to a wide range of first-time home buyer mortgage options—and we make those options easy to understand so you can choose the one that's right for you.
Open and fixed term mortgages
There are two main types of mortgage: fixed and open.
A fixed-term mortgage allows you to pay a lower interest rate, but there is a penalty if you make extra payments above a certain amount or prepay your mortgage in full before the maturity date.
An open-term mortgage gives you the flexibility to pay off their mortgage ahead of time. You can make additional payments any time without penalty.
Closed term mortgage
A closed term mortgage is a more restrictive option than the fixed term mortgages so that a rate savings can be passed on to the homebuyer. If you plan to buy your own home and you're looking for a simpler mortgage with a low rate that's guaranteed for 5 years, the Closed Term Fixed Rate mortgage might just be the right solution for you.
Fixed and variable rates
For whichever type of mortgage that suits you, there are different rates that come along with it.
A fixed rate mortgage holds the same interest rate for the entire term of your mortgage. This allows payments to be more predictable because the payments are the same.
A variable rate mortgage applies an interest rate that fluctuates with the prime interest rate. While that can mean unpredictable payments, it can also mean lower interest charges.
Vancity's Homeprime mortgage allows you to enjoy the potential interest savings of a variable-rate mortgage while eliminating the unpredictability.
Mortgage products
Cash-back mortgage
A cash-back mortgage is a great option for buyers who want to renovate or need access to cash for any other reason. You can get cash back on a 3, 4, 5, 7 or 10-year fixed-term mortgage.
Mixer mortgage
If you're thinking of sharing a first-time home buyer's with a partner, family members, roommate, or friends, the mixer mortgage is the perfect solution. Mixer mortgages offer competitive rates plus the legal and insurance support you need to protect everyone's best interests.
Learn more about the features and benefits of the Vancity mixer mortgage.
Purchase Plus Improvement (for home improvements) mortgage
If you need a first-time home buyer mortgage for a home that needs repair or renovation, this option may be right for you. You can add your renovation costs to your mortgage amount so you have the cash you need to make it the home of your dreams and increase the value of your property. Talk to one of Vancity's mortgage specialists for details.
Green Home mortgage
If you need a first-time home buyer's mortgage to buy an energy-efficient home or renovate the home to make it more energy-efficient, mortgage insurance will be provided through an approved high ratio insurance provider. You'll get a 10% refund on your mortgage insurance premiums that you can apply to the renovations or to your mortgage payments.
More options
There are even more mortgages for first-time home buyer mortgage seekers to choose from.
Payment terms
You also have options when choosing your mortgage amortization period, which is the length of time you can take to pay your mortgage in full. While you can choose a period of up to 25 years for high-ratio mortgages and up to 30 years for conventional mortgages, you can also shorten the amortization period:
When you choose a shorter amortization, your monthly payments are higher, but you save money over the long term by paying less interest over the life of the mortgage.
When you choose a longer amortization, your monthly payments are lower, but you pay more interest.
For example:
Let's say you have a mortgage of $350,000 with an interest rate of 4.00%. With a 25-year amortization, you'll pay only $1,841.07 per month, but your total interest paid over that time will be $202,321.32. With a 20-year amortization, you'll pay $211.86 more per month, but your total interest paid will be just $157,567.44.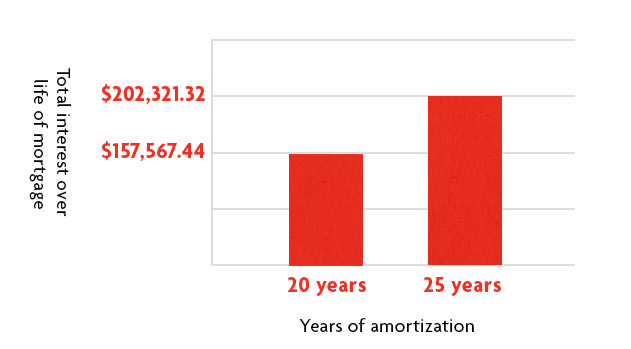 Talk to us
To apply for a mortgage or get answers to your questions, please make an appointment to meet with a mobile mortgage specialist, visit a branch, or call our Member Services Centre toll-free at 1.888.826.2489.