Moose Hide Campaign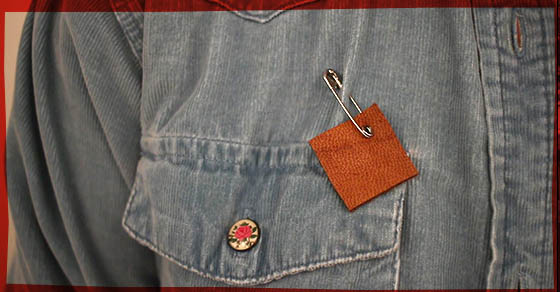 The Moose Hide Campaign is a grassroots movement of Indigenous and non-Indigenous people who are standing up against violence towards women and children.
Wearing this moose hide signifies your commitment to honour, respect and protect the women and children in your life and to work together to end violence against women and children.
Moose Hide Campaign origin story
On an early 2011 August morning, an Indigenous man named Paul Lacerte and his daughter Raven were hunting moose near the infamous Highway of Tears, a section of highway between Prince George and Prince Rupert, BC, where dozens of women have gone missing or been found murdered. They brought down a moose that would help feed the family for the winter and provide a moose hide for cultural purposes.
As Raven was skinning the moose, her father started thinking…they were so near the highway that has brought so much sorrow to so many families and communities, here with his young daughter who deserved a life free of violence. That is when the vision came into focus. What if they used the moose hide to inspire men to become involved in the movement to end violence towards women and children? Together with the other members of their family they cut up the moose hide into small squares and started the Moose Hide Campaign.
How to get involved
Here are some ways you can get involved:
Wear and share the moose hide pin. Pins are available for free at your local Vancity branch or you can order online.
Register online to participate in the Provincial Gathering and Day of Fasting on February 15, 2018.
Learn more about Moose Hide Campaign.
Organize a Moose Hide Campaign event in your organization or community.
Learn about the historical treatment of Indigenous peoples and how you can support women's services and movements.
One of the most important things that you can do to help end violence against women and children is to speak out. You can also promote gender equity, healthy relationships, and positive ideas of masculinity in your family, community and workplace.
Motivation
Gender-based violence is a painful and unacceptable reality in Canadian society and it must stop. For Indigenous women, this reality even more acute with over 1,200 Indigenous women having been murdered or gone missing. Too many wives, daughters, sisters, aunties, mothers and grandmothers are not safe in their own home or in their community. Too many have been murdered or are missing. Too many have been sexually assaulted or beaten. It is time for each of us to change this.
While the Moose Hide Campaign focuses on engaging men and boys in ending violence towards women and children, campaign events bring together people of all genders and has grown over the years to engage all Canadians in ending gender-based and domestic violence against woman and children. Women have always held key leadership and ceremonial roles in the Campaign, including co-founder Raven Lacerte, and in recent years events have evolved to include women's and men's circle and workshops. Read more about the role of women in the Moose Hide Campaign.
Many efforts, projects and strategies are now underway throughout the country to change this reality, but we can and need to do more. Silence is not good enough, and simply being a non-abuser is not good enough. We must speak up and take action, and we must stand together to end the violence.
Vancity's Involvement

Vancity has been a leader in the Reconciliation space for many years and has supported the Moose Hide Campaign as a practical expression of Reconciliation. In February 2017 Vancity partnered with the Moose Hide Campaign to launch a pilot project with the purpose of creating a scalable prototype that could be replicated in other Vancity branches/departments and exported to other credit unions and organizations across Canada. We took it a step further in February 2018 and rolled out an organization-wide campaign, inviting our staff and membership to join us in this act of Reconciliation.