Curating public space to uplift and amplify the stories of Indigenous artists
Vancouver Mural Fest is changing the way art is seen in our city. Through the creation of permanent, large-scale public murals, Vancouver Mural Fest provides a platform for Vancouver's diverse art scene to contribute to the city's cultural legacy. As a values-aligned community partner who shares Vancity's commitments towards reconciliation with Indigenous peoples, social justice, and financial inclusion, Vancouver Mural Fest's work also serves as a catalyst for addressing many of the social and cultural issues facing our city and the artistic communities within it. Their Indigenous Programs endeavor to use public art to support, celebrate, and train Indigenous artists & youth to become muralists, reclaiming public space and contributing to the work of Indigenous visual sovereignty. These artistic interventions reflect both contemporary and traditional Indigenous values, stories, ideas, art, and more.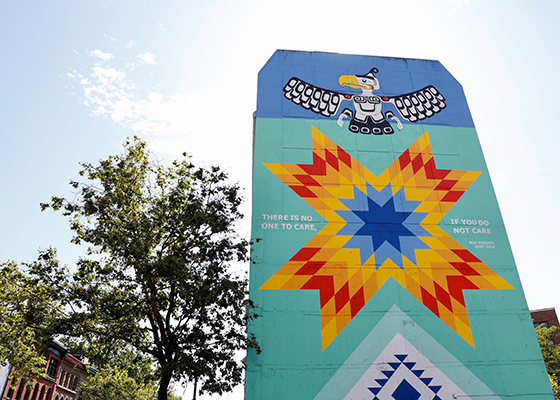 "Cree artist, Jerry Whitehead's memorial mural, featuring a star blanket and thunderbird to honour the victims of Vancouver's opioid crisis and brighten the neighborhood."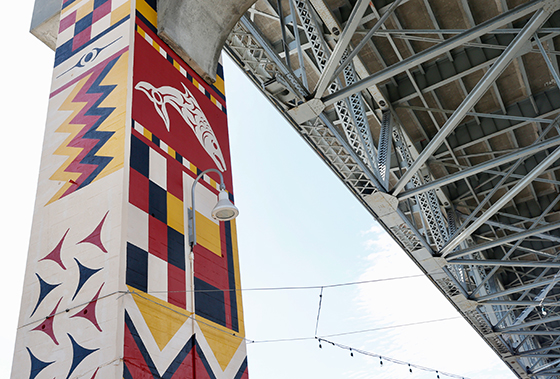 "Acclaimed Musqueam artist, Debra Sparrow, celebrates the resurgence of Coast Salish weaving in profoundly visible, public, and accessible spaces across the city by transforming Coast Salish textile patterns into giant murals that also incorporate contemporary design elements."


Vancity believes that understanding the history and culture of the territories we live on is foundational to building respectful and reciprocal relationships with Indigenous communities. We're proud to support the Vancouver Mural Fest in their work to elevate Indigenous voices as it helps us all better understand the places where we work and live, and increases public exposure, awareness, and opportunities to engage with these important stories.
Visit the Indigenous mural map to see the many ways our partnership is bringing Indigenous art to the walls of the city. And don't miss your chance to participate in an exciting lineup of events this August which engages important conversations through public art.