Vancity Fair & Fast Loan™
Get a Vancity
Fair & Fast Loan™ in as little as 10 minutes
Apply online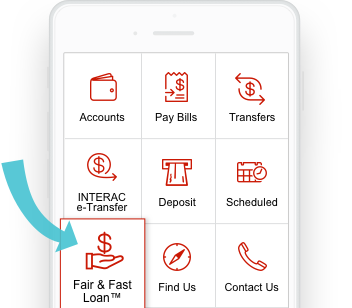 A fair and fast alternative to payday loans, created with feedback from Vancity members.
Unexpected expenses can happen to any of us. We may be able help you get back on your feet with $100-$2,500 in your account, in as little as 10 minutes. No fees, no hassle. Make sure you check the video below to see in detail how you can apply and if you qualify for a Vancity Fair & Fast Loan.
Super fast process
Our latest banking system upgrade lets you apply online and get approval in as little as 10 minutes.
Low rate
Annual interest rate equal to 19%.1
No credit check
We believe you're more than just your credit history. Your credit score does not influence our approval process.
Adjustable payments
Decide your own repayment schedule, from 2 weeks to 2 years.2
Apply online
Note: not accessible through Internet Explorer. Supported browsers include Chrome, Safari and Firefox, or you can apply through the Vancity mobile app.
Use the slider below to calculate the approximate loan cost.3
$100$2,500
Loan amount $
Loan period
Payment
frequency
Interest rate %

payment $
Cost of
borrowing $
Questions?
How is the Vancity Fair & Fast Loan™ different than a payday loan?
The Vancity Fair & Fast Loan offers a manageable rate, flexible payback schedule and an opportunity to build your credit history. Read more about the differences.
Is this product right for you?
Vancity offers a range of loan products that might better meet your needs.
See how you can apply for a Vancity Fair & Fast Loan.
To apply in person or over the phone contact us.
In person
Visit a Vancity
community branch near you. Find a Branch
1 The annual percentage rate (APR) is compounded monthly, not in advance. APR assumes no fees or charges apply. If additional fees and/or charges apply, the total Cost of Credit and APR would increase. This product, its features and advertised interest rates may change at any time and may be withdrawn by Vancity at any time for any reason without prior notice to the member.
2 Loans repaid earlier than the two weeks minimum term may not significantly improve a member's credit history as credit bureaus are built over time.
3 Information and interactive calculators are made available to you as self-help tools for your independent use and are not intended to provide financial or other advice. We cannot and do not guarantee their applicability or accuracy in regards to your individual circumstances. All examples are hypothetical and are for illustrative purposes. We encourage you to seek personalized advice from qualified professionals regarding all personal finance issues.
Vancity Fair & Fast Loan™is a trademark of Vancouver City Savings Credit Union.