Vancity is recognized as one of Canada's Top 100 Employers.
Employee well-being contributes to building community well-being.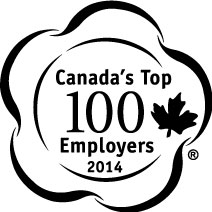 October 21, 2013 - We've been selected as one of Canada's Top 100 Employers for 2014 by Mediacorp Canada Inc. The annual competition recognizes employers who are leaders in their industries in offering exceptional places to work. We're proud to have won this award eight times since the project's inception in 2001.
"Our employees are key to enhancing the well-being of our members while building healthy communities," says Ellen Pekeles, Senior Vice President of Operations. "Looking after our employees is the right thing to do, but it also makes good business sense. Engaged employees strive to do the right thing for the members they serve and contribute to creating impact in the communities where they live and work. We're proud to win this award because it validates our ongoing efforts to improve our workplace."
Some of the reasons we were was chosen for 2014 include being a Living Wage employer which means our minimum wage reflects the necessary income needed to support families based on the actual costs of living, our flexible and comprehensive benefits program which allows employees to customize their benefits based on their individual needs, and professional development support which includes tuition reimbursement up to $2,400 per year.
"At Vancity, it's like a family that takes care of each other. We work hard because we're values-aligned toward making positive changes for our members and communities," says Anthony Okuchi, Manager, Operations & Community Business. "I've worked here for 19 years and I'm constantly learning new things."
This year, Vancity has received several employee related awards including Nancy McKinstry Corporate Diversity Award, Community Partner Award for Inclusive Workplace from BC Centre for Ability, Women of Distinction Innovative Workplace Award, and BC's Top Employers and Canada's Top 100 Employers 2013.
About Canada's Top 100 Employers Awards:
Employers are evaluated by the editors of Canada's Top 100 Employers using eight criteria: (1) Physical Workplace; (2) Work Atmosphere & Social; (3) Health, Financial & Family Benefits; (4) Vacation & Time Off; (5) Employee Communications; (6) Performance Management; (7) Training & Skills Development; and (8) Community Involvement. Employers are compared to other organizations in their field to determine which offers the most progressive and forward-thinking programs.