What is a Living Wage?
What is a living wage?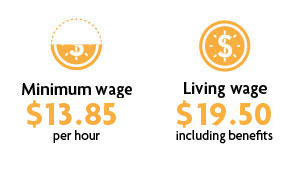 Vancity is one of Canada's largest Living Wage employers.
A Living Wage is the hourly rate required for two working parents to meet the basic needs of a family of four. The family of four is the most common family size and the Living Wage for this family is a fair proxy for other family sizes and single adults.
Currently, the minimum wage in BC is $13.85/hour, but the Living Wage in Metro Vancouver for 2019 is $19.50/hour. This means that families who work for low wages often face impossible choices: buy food or heat the house, feed the children or pay the rent.
We are committed to meeting (or exceeding) the annual Living Wage rate for our employees and our contracted suppliers. This year, the Living Wage rate went down slightly, as a direct result of government investments in childcare programs, but we have committed to continuing to pay the 2018 rate of $20.91/hour.
Paying a Living Wage allows individuals and families to meet their basic needs and contribute to their communities. A Living Wage means strong local economies, sustainable cities and healthy communities.
A Living Wage: impacting employees and their communities
As a Living Wage Employer we are building wealth into the communities where we live and work. It's one of the best local economic development strategies we can employ.
We are committed to meeting the annual Living Wage rate for our employees and our contracted suppliers.
Are you an employer? Want some help on your Living Wage journey?
We want to share what we learned with other employers—the more employers who join us in paying a Living Wage, the more we can impact our local communities.
Download our guide: Living Wage roadmap for large employers (PDF, 2.4MB)
Email us at livingwage@vancity.com for more information
Vancity Living Wage milestones
A Living Wage tackles poverty
"More money in the hands of working families is an important way to solve family and child poverty."
Learn more about the movement