How Vancity is helping the Syrian refugee crisis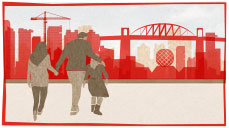 Our credit union is built on principles of social justice and inclusion. Our 500,000 members trust us to do the right thing to build strong, healthy and welcoming communities. We believe this means taking action to make a positive difference in addressing the Syrian refugee crisis. Here are some of the ways we're helping:
Product solutions
Refugee assistance program accounts
For almost 20 years, we have partnered with Immigrant Services Society of BC (ISSofBC) to open basic bank accounts for government assisted refugees. Our downtown Vancouver community branch alone has helped about 800 new refugees with their banking needs each year.
The Vancity Ready to Rent Loan offers members an interest free loan to do home upgrades for the purpose of readying a suite or room to welcome a refugee. Not only does this interest free loan saves members money compared to a conventional loan and can increase your home rental potential in the future, but it will also increase the supply of available housing units for refugees.
Refugee assistance program enviro™ Visa* card
With a low limit enviro Visa card, we help refugees gain access to credit and to begin establishing a Canadian credit history which is often important and necessary in finding rental housing and even employment.
Vancity microloans help newcomers to Canada get back to work in a trade or profession, for tools or recertification so that they can be self-reliant.
Community support
For every dollar our members donate to the Vancity Humanitarian Fund, we'll match it (up to a max. of $125,000) to support local refugee settlement.
Financial literacy is an essential survival tool for newcomers to Canada especially as financial systems becomes increasingly complex. Providing resources and knowledge in the community will help newcomers become more financially secure through making informed decisions about money management. It helps weave newcomers into the Canadian financial system and promotes positive economic activity in our local communities.
Collaboration with other agencies
Vancity works closely with partner agencies like ISSofBC, MOSAIC, Journey Home, Kinbrace and SOS to help all refugees settle into Canada, so that we can build strong and healthy communities for all.
Calling on the federal government to increase intake of refugees:
The CEO of Vancity, Tamara Vrooman sent a letter to then-minister of Citizenship and Immigration Canada in September asking for an increase in government-supported refugees to Canada.

Want to know how you can personally help too?
TM enviro is a trademark of Vancouver City Savings Credit Union. *Visa Int./Vancity, Licensed User.