Report: B.C. bound Syrian refugees to boost local economy by $563 million
Findings come as Vancity announces new supports for incoming refugees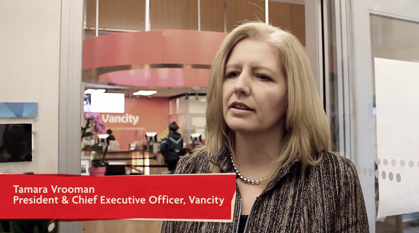 December 2, 2015, Vancouver, B.C. – Syrian refugees expected to arrive in British Columbia between now and the end of February 2016 will generate at least $563 million in local economic activity over the next 20 years, says a new report released today by Vancity credit union.
Watch the video.
The report, From Crisis to Community: Syrian Refugees and the B.C. Economy, found that immigrants tend to strengthen economies within their new communities, since they often purchase goods and services within their local community networks. Other findings include:
Among the 1,924 government-assisted refugees who settled in Metro Vancouver between 2010 and 2012, 65 per cent settled either in Surrey, Coquitlam or Burnaby.
Immigrants across Canada have a history of helping to grow the local economy. In Halifax, the Lebanese community is estimated to have created about 3.6 local jobs for each immigrant.
Immigrants tend to be highly entrepreneurial as they are about 30 per cent more likely to start a business than non-immigrants.
Refugees report higher rates of self-employment than both other immigrants and people born in Canada.
The report comes as Vancity announces a series of new initiatives to add to the supports it has been providing government-assisted refugees in B.C. for almost 20 years, including the opening of bank accounts within the first two weeks of settlement, and the provision of microcredit to help tradespeople, service workers and professionals get back to work in this new country. The new initiatives include:
Ready to Rent Loan: Vancity will offer its members an interest-free seven-year loan of up to $50,000 for home upgrades done to ready a suite or room to welcome a refugee. Members will need to register and be screened by the Immigrant Services Society of British Columbia, or demonstrate through documentation from Citizenship and Immigration Canada that the refugee they have sponsored has been approved to come to Canada through the privately sponsored refugee program. To qualify, members will also need to meet standard lending criteria. The program is designed to help increase the housing options available for new refugees.
Vancity Humanitarian Fund directed to meet the needs of local refugees: Vancity has been matching every dollar donated to the Vancity Humanitarian Fund (administered by the Vancity Community Foundation) up to a maximum of $125,000. Since launching in late September, the Fund has collected about $30,000 in donations, which are being matched by Vancity and again by the federal government for the Syrian Emergency Relief Fund. Money gathered to this point will be disbursed to the UN Refugee Agency (UNHCR) to support work overseas. From today, any new proceeds to the fund will be used to support refugee settlement here in B.C. Vancity will continue to match all donations up to $125,000.
Give with points: Enviro™ Visa cardholders can support local refugees by donating as little as 2,000 My Visa Rewards Plus points to the Vancity Humanitarian Fund.
Refugee Travel Loan: The federal government has historically required government-assisted refugees to cover the cost of their trips to Canada in the form of a loan, which refugees must then repay with interest. The government has recently waived the loan for Syrian refugees coming to Canada, though other refugees continue to pay these loans, with interest. The Vancity Refugee Travel Loan is an interest-free loan that will allow refugees not covered by this exemption to buy out their federal government loans, stopping the accrual of interest and giving more repayment flexibility as they settle into Canada.
Opening our doors to meet the need: Vancity traditionally meets with government-assisted refugees in a single processing branch to assist them with opening bank accounts within the first two weeks of their arrival in B.C., and while they are hosted at Welcome House. To meet the expected influx between now and February 2016, Vancity will be expanding to an estimated five new processing branches throughout our service area. Vancity will also reach out to community partners working with privately sponsored refugees to offer the same early account opening.
Credit union collaboration: Vancity will be reaching out to our sister credit unions to share knowledge, tools, and processes that can be used to assist new refugees as they settle in B.C.
Quote
"These new measures build on Vancity's commitment over the past 20 years to supporting refugees when they arrive in British Columbia. We're calling on all businesses to play a role in supporting refugees that are coming to our region." Tamara Vrooman, president and CEO of Vancity credit union
"The range of needs and supports that these refugees will require when they arrive in B.C. are diverse enough that everyone can help by either hiring them, providing accommodation or donating to support organizations meeting these needs." Patricia Woroch, CEO, Immigrant Services Society of BC
Additional information
Backgrounder: Vancity's investment and support for immigrants and refugees.
Methodology
Secondary research and data analysis for this report were conducted by Eric Adebayo and Ricardo Meilman Lomaz Cohn, PhD students in the Department of Economics of Simon Fraser University. In addition to secondary sources, the researchers made contact with local organizations that work with immigrant and refugee integration. The research was conducted in November 2015.
---
About Vancity
Vancity is a values-based financial co-operative serving the needs of its more than 509,000 member-owners and their communities through 59 branches in Metro Vancouver, the Fraser Valley, Victoria, Squamish and Alert Bay. As Canada's largest community credit union, Vancity uses its $18.6 billion in assets to help improve the financial well-being of its members while at the same time helping to develop healthy communities that are socially, economically and environmentally sustainable.
Tweet us @vancity and connect with us on facebook.com/vancity.
For more information:
Lorraine Wilson | Vancity
T: 778-837-0394
mediarelations@vancity.com