Multi-factor authentication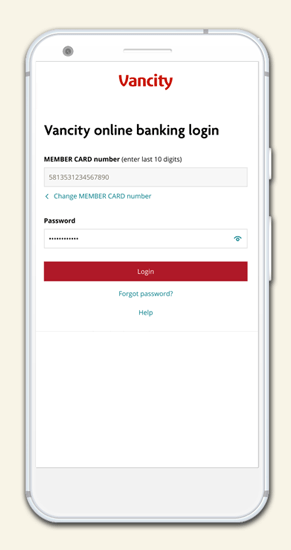 Secure login with Vancity.
To make your online banking experience more secure, we've introduced some new features.
What's new:
You'll see a new login portal online and on the mobile app.
Set up Multi-Factor Authentication as an added layer of security for your account.
With Multi-Factor Authentication set up, you can enroll in Password Reset to self-serve when you forget your password.
Manage My Saved Cards (desktop) and Saved Login (mobile app) are no longer available.
For more questions and support on logging in for the first time, please visit our Learning Hub.
Last updated October 7, 2021.
What's Multi-Factor Authentication?
Multi-Factor Authentication is an additional layer of security that helps to protect your account. When entering your MEMBER CARD number and password, you may be asked to enter an additional one-time code which will be sent to your phone via a text message, an automated voice call, or an authentication app.
3 ways to authenticate

Text message (SMS):
You will receive a text message with the one-time code. This is the most popular option.

Voice call:
You can choose to receive a phone call where you will hear the code spoken out loud, instead of receiving a text message.

Authentication app:
You may download an app such as 'Google Authenticator™ mobile app' from the Google Play™ store or the Apple® App Store. By scanning a QR Code, the authentication app will produce the one-time code. This is the best choice if you have access to internet but no cell phone signal.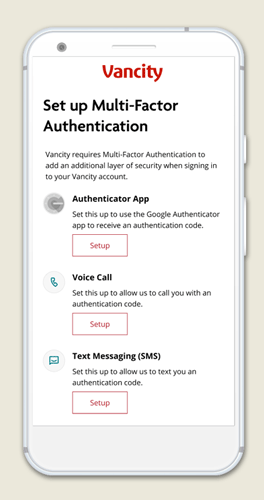 How to setup MFA
The first time you log in, you'll be asked to sign-up for Multi-Factor Authentication.
Enter your MEMBER CARD number and password.
Press 'Setup' under the option you want to enroll.
For Voice Call and Text Messaging (SMS), enter your phone number. For Voice Call, this can be a landline or a cell phone number.
Enter the one-time code sent to your phone.
You're done!
To enroll with an Authenticator App, download the Google Authenticator™ mobile app on your mobile device. Then simply scan the QR Code and the app will generate a one-time code for you to use.
Password reset
Forgetting a password happens to everyone. Please make sure you set up the password reset feature so you'll be able to reset your password quickly and easily if you ever need to.