Brave New Work with SFU Public Square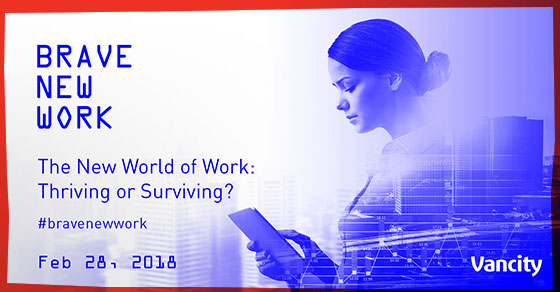 As part of SFU Public Square's 2018 Community Summit, Brave New Work, Vancity is proud to be presenting partner of the keynote event The New World of Work: Thriving or Surviving? at the Queen Elizabeth Theatre on Wednesday, February 28, 2018.
CBC's Laura Lynch will moderate a conversation with Van Jones and Anne-Marie Slaughter, two leading commentators on the American economy, discussing the role that citizens, governments and civil society can play in shaping the future of work. They will explore the challenges ahead, as well as how these challenges might be addressed through green jobs, emergent industries, education and public policy.
Brave New Work serves as a platform to celebrate innovation within a changing workforce. Vancity has a long-standing relationship with SFU, which we are proud to strengthen this year, by supporting a dynamic dialogue around the changing nature of work, social change, economic development, and income equality.
Doors open at 6:00pm, so come early to check out our members at the Vancity Thriving Marketplace, where seven Vancity business members and community partners will showcase how they are helping to define the future of work. Meet the Vancity Thriving Marketplace members:
Click here for a full list of topics being discussed as part of this 9 day summit and other Vancity Involvement.
Keynote Speakers
The New World of Work: Thriving or Surviving? will feature two keynote speeches delivered by Anne-Marie Slaughter and Van Jones.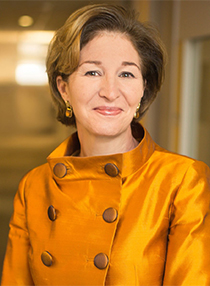 Anne-Marie Slaughter is the President and CEO of New America, a think ​and action ​tank dedicated to renewing America in the Digital Age. Slaughter is a Professor Emerita of Politics and International Affairs at Princeton, was formerly the Director of Policy Planning for the U.S. State Department, and her 2012 article, "Why Women Still Can't Have it All," quickly became one of the most-read articles in The Atlantic's history.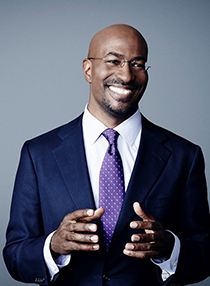 Anthony Kapel "Van" Jones is the President and Founder of Dream Corps, an organization that brings people together to solve America's toughest problems. He is the host of The Messy Truth with Van Jones, a CNN political contributor, a best-selling author, and former green jobs special advisor to the Obama Administration. In 2004, Jones was recognized as a "Young Global Leader" by the World Economic Forum and in 2009, Time magazine named Jones as one of the 100 most influential people in the world.




Opportunities to Attend
Register Now for Your Opportunity to Attend
To register for your ticket, please visit Eventbrite. There are a limited number of seats available, so we encourage you to register early.