Start Smart - a basic guide to business planning
Download our guidebook to help develop your business plan
Our microfinance team created this guide to help our members be successful not only in starting their business, but in their need to secure financing. Following this guide doesn't guarantee that your plan will be met with a positive lending decision. We offer this information to provide a general overview of what our microfinance team looks for in the business plans they receive.
Depending on the complexity of your business, you may want to seek independent, professional, legal or accounting advice. And it is always a good idea to get a third party business advisor to review your plan.
Resources
Start Smart guidebook and business plan template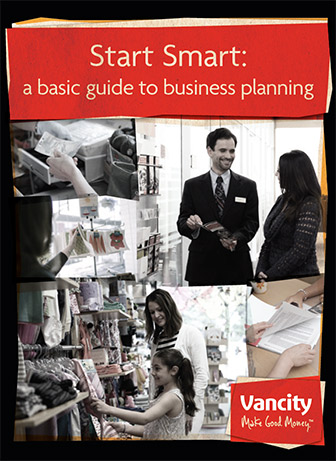 Congratulations: you've got a great business idea. You're convinced that your idea will be a winner and fill a void in the marketplace – and of course – you'll make lots of money. Now, you need a business plan.
We created this form and accompanying guide to help you think through the elements of a good business plan. The guide provides resources including links, a sales forecast and a cash-flow forecast tutorial.
Start Smart audio guidebook
You have a great business idea. Your research indicates that you'll have a large enough market to make a profit. That's a great start – but – do you know what it takes to be a successful small business owner? And, do you have those qualities?
1. Why you need a plan & how to get started
A general overview of what Vancity's microfinance team looks for in business plans.
2. Marketing & marketing plan
Learn how to make a roadmap to make sure your customers reach your door. Explore questions like who is your target market and what is your competitive advantage.
3. Management & operations
How will you handle the different areas of your operations? Read about what a business plan should detail in regards to management, process and risk.
4. Financial plan
Be prepared to explain how you arrived at your calculations. Learn about pricing strategy, sales forecasting, break-even analysis and cash-flow forecasting.
5. Business plan summary
We are very interested in hearing about how your business idea will have a positive impact on the communities where we live and work. Learn about the 10 topics to cover in your summary.
6. Sales forecast tutorial
Learn how to do a cash-flow forecast for retail businesses, service businesses and manufacturing & other non-retail product businesses.