JJ Bean and Vancity celebrate 16 years of shared values and support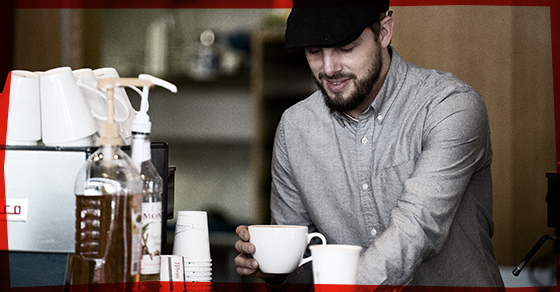 JJ Bean, one of Vancouver's premier coffee chains, shares with Vancity a longstanding commitment to social responsibility. By providing coffee that adhere to strict quality and environmental standards, JJ Bean contributes to the creation of a just model of coffee production and consumption by paying farmers a fair price. JJ Bean also creates positive change through its Over & Above program, which uses proceeds from its single-origin coffees to fund charitable initiatives in coffee-growing communities. Finally, JJ Bean is committed to creating good local jobs at its JJ Bean outlets, providing its employees with health benefits, good pay and even the option to buy into the company—a rarity in the coffee retail world.
Vancity has provided for JJ Bean's banking needs for 16 years—as long as JJ Bean has been in business—and continues to support JJ Bean's vision for a socially and environmentally responsible coffee industry.
Read more
When coffee lovers drop in for their morning pick-me-up at JJ Bean, one of Vancouver's premier coffee chains, they can be assured of three things. First, they'll get a great cup of coffee. Second, the cup of coffee they get will be socially responsible, whether it's certified organic or simply bought at above-market rates from producers. Finally, customers can be assured that the barista behind the counter—and indeed every employee at JJ Bean—is valued to a great degree.
This blend—a great product alongside a socially conscious business model—makes JJ Bean the perfect partner for Vancity, which has serviced JJ Bean's banking needs since the coffee company opened 16 years ago. "It's exciting to work with another made-in-Vancouver success story that shares a lot of the same ethics and values that Vancity shares," says Douglas Paillé, account manager at Vancity. "They have a socially responsible model that really fits with Vancity."
A big part of that model is JJ Bean's "Over & Above" program. Financed through a combination of sales (a portion of the proceeds from single-origin coffees goes to the program) as well as direct donations from JJ Bean and its customers, the program contributes to initiatives that directly aid coffee-growing communities. "Some of the farmers that JJ Bean buys from are in the poorest communities in the world," says Douglas, "so Over & Above is a great way to raise money and give back to those communities."
Initiatives funded through Over & Above emphasize education, with recent contributions going to educational charities in Africa and Central America. In Kenya and Tanzania, for example, Over & Above has contributed to seeing that 30 girls receive a high school education, while in Guatemala local growers' communities have received money for education on crop diversification, health and women's issues.
But Over & Above is only part of JJ Bean's social justice package, as JJ Bean and its employees are always on the lookout for new and creative ways to contribute to a better world. When the Japanese earthquake hit, for example, employees voluntarily gave up their daily tips to provide aid, and JJ Bean matched the total and donated it to the Red Cross, which matched it again, effectively quadrupling the original tip amount. This creative, local-to-global approach is a big part of what makes JJ Bean more than just your average coffee shop. "We do a lot of work in the countries where we get our coffee from," says JJ Bean owner John Neate, "but we also try to look for ways to contribute in our neighbourhood, right in our backyard."
To find the positive local impact of JJ Bean's business model, you need look no further than the barista standing behind the counter at one of its 11 (soon to be 14) locations. Employees at JJ Bean are paid above-market rates, receive sales bonuses after three months, a health plan after six, and after one year receive a wellness plan and the option to buy into the company. "We really do what we can to value people," says John. "When I started in this business, it was really hard to keep a barista for more than three or four months. Now we have 25 people out of 190 who have been with us for five years or more."
The relationship between JJ Bean and Vancity has likewise stood the test of time, and it's no surprise given the two organizations' shared vision of the world. "The people I work with at Vancity have a consistent value system," says John, "and I like the way their values align with my values. They also treated me really well when I wasn't so successful," he adds jokingly, "which is something I remember and appreciate."
Less