BEST Bicycle Valet: Acting on climate change, one bike at a time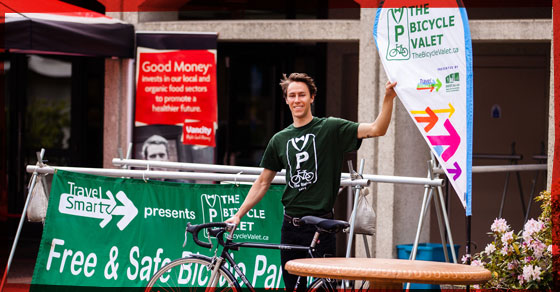 BEST Bicycle Valet's goal is to make valet bike parking at events as common as car parking. But while many community events organizers encourage sustainable transportation, parking bikes is often a challenge in Vancouver.
"BEST encourages people to get out of their cars and pursue sustainable, active and healthy transportation," says Geoffrey Vincent, project manager at BEST. "At community events, where there are lots of people and not many bike racks, we realized that having a valet service might encourage more people to ride."
Vancity is committed to BEST's vision of sustainable transportation, supporting their growth with various community project grants. This has an added knock on effect—with BEST's help, more events around the city can increase their own sustainability, such as: Bike the Blossoms (400 bikes), Car Free Day in Vancouver (539 bikes), Trout Lake Farmers' Market (842 bikes) and Powell Street Festival (343 bikes).