Looking for our lowest mortgage rate?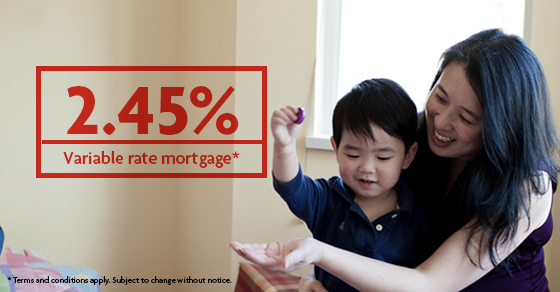 A variable interest rate is usually lower than a fixed-rate option. While this Homeprime mortgage is based on a variable rate, the payments are fixed over the 5 year term. As we are currently in a market which is experiencing rising interest rates, if the Homeprime rate goes up, your payments will stay the same, but more of your payment will go towards paying interest, instead of paying down your principal.
Qualification criteria for this promotional offer, in addition to our regular credit granting criteria:
Five-year fixed term
Amortization of 25 years or less
Loan-to-value ratio 75% or less
Owner occupied
Convertible into a fixed rate mortgage anytime without penalty, as long as the new term and interest rate are equal to or greater than the remaining term and interest rate.
If you would like the security of knowing your rate for the duration of your mortgage, then a fixed mortgage may better suit you, so you don't need to monitor rate changes. Learn more about other mortgages we offer.
* 5-Year Homeprime Fixed Term Mortgage interest rate is compounded monthly, not in advance. Vancity's Homeprime mortgage offers you a low variable interest rate based on Vancity's Homeprime rate over a 5-year fixed term. The Homeprime represents a variable rate of interest announced by Vancity from time to time as its Prime Lending Rate. Rate changes when Vancity Homeprime changes. Rates subject to change without notice.