Savings accounts
Account Name
Overview
Key Features
Plan 24 Savings
Choose this flexible savings account if you don't require a lot of transactions and want to minimize account fees.

Get 10 free Everyday In-Person Transactions¹ or Everyday Debit Card Transactions5 per month
Get unlimited free Everyday Mobile and Online Transactions³ (excludes INTERAC® e-Transfers*)

Plan 24 Savings Plus
Members aged under 25 or 55+ enjoy additional benefits

Pay no monthly fees
Get unlimited Everyday Transactions¹

Jumpstart® High-Interest Savings Account
Earn our highest posted savings interest rate7, with no minimum account balance requirement.

Enjoy our best posted savings interest rate7
Get unlimited free Everyday Online and Mobile Transactions³ (excludes INTERAC® e-Transfers*)

Access your Shared Success patronage payouts from this account.

Each year, Vancity will deposit the Shared Success patronage you've earned into this account
Level up your savings with term deposits

Earn more interest on your savings when you put them away into term deposits. You can get a low-risk return on extra cash that you were saving anyway.


Learn about term deposits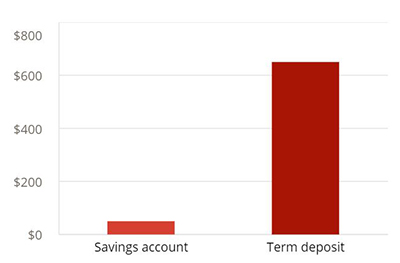 Interest on $10,000 invested for 5 years8


Open an account
I'm a member
Adding an account in Online Banking is easy. Simply login, go to Account Services where you can open a new account.
Go to Account Services
Not a member?
To open an account, you'll need to become a Vancity member—and that's super easy. Simply select the button below to choose a time for a quick account opening phone-appointment.
Book an account opening
*® Trade-mark of Interac Inc. Used under license.
1 Everyday Transactions are all of these:
2Everyday Cheque and Preauthorized Payment Transactions are cheque transactions and preauthorized payments (PADs) from Vancity Accounts.
3Everyday Online and Mobile Transactions are bill payments, cheque deposit using Vancity Mobile Deposit™, transfers from Vancity Accounts made online using a computer, mobile phone, Mobile Device or using Vancity's automated Telephone Banking service.
4Everyday In-Person Transactions are Account withdrawals, bill payments, transfers to or from Vancity Accounts conducted person-to-person, over the phone with our branch staff or Member Service Centre staff.
5Everyday Debit Card Transactions are debit card purchases or ATM cash withdrawals or ATM transfers from Accounts.
Everyday Transaction fees are calculated and charged at month end for Vancity's chequing and savings products, with the exception of Jumpstart High Interest where the fees are incurred immediately when the transaction is made. Overdraft interest, not covered by a Creditline line of credit or a Personaline line of credit, accrues immediately and will be calculated and payable at month end.
7Interest is calculated on closing daily balance in an Account and paid at month end. The interest is an annual interest rate. Interest is earned in the currency of the account. View the current rates here or in-branch for more information.
8This calculation is for illustrative purpose only and should not be relied upon as financial or other advice . This example compares a 5-year investment of $10,000 in a savings account offering 0.1% APR with a $10,000 in a 5-year term deposit offering 1.3% APR , assuming no withdrawals or new contributions. Actual interest rates and earnings may vary.