Vancity and the Indian Summer Festival partner to present – PAUSE Pavillion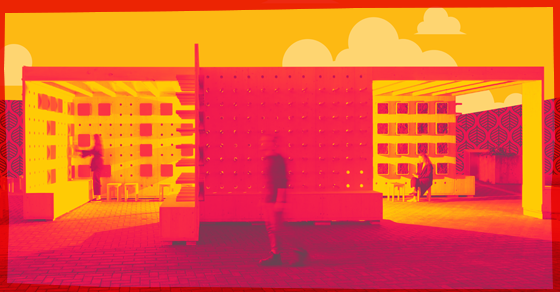 Vancity is proud to partner with the Indian Summer Festival (ISF) to present the PAUSE Pavilion - a free public art space open from Thursday July 5, to Sunday July 15. The Pavilion will bring organizations and audiences together in the spirit of dialogue, decolonization and Reconciliation. It will also feature a variety of works by artists from Indigenous and South Asian descent, as well as other racialized groups.
Located at the site of the former First Nations village of sən̓aʔqʷ (pronounced Sun'ahk) currently known as Vanier Park - the Pavilion aims to redefine the way that racialized and Indigenous groups feel tangible ownership of the city's public spaces. To that end, the Pavilion will host a number of free events promoting a deeper understanding of the area, its peoples and its history. Attendees can participate in talks, collaborative workshops and long-table meals featuring artists, thought leaders, and other inspiring figures.
For the past several years, the ISF has collaborated and consulted with various Indigenous groups to better incorporate Indigenous curators and artists into its programming. This year, the new PAUSE Pavilion will feature many artists, including Musqueam weaver Debra Sparrow and ISF artist-in-residence Sandeep Johal, who collaborated to create the Pavilion's signature ceiling mural. The ISF is also working closely with Metis-Cree community planner, filmmaker, and writer Kamala Todd to curate the Pavilion.
Special PAUSE Pavilion Events
In addition to exhibiting public art and giving festival-goers a place to connect, the Pavilion will host a number of special events, including:
PAUSE Pavilion opening launch (Friday, July 6, 2018) – The official launch of the PAUSE Pavilion, featuring music and songs honouring the unceded Musqueam, Squamish, and Tsleil- Waututh territories that surround us. The event will unveil artwork by Debra Sparrow and Sandeep Johal, and will include a panel discussion and reception.
Tiffin Talks – A six-part idea series featuring a diverse group of thought leaders, artists, innovators, and change makers gathering to share ideas over a long-table lunch. Be sure to sign up early!
PAUSE in the Park – A festival within a festival, PAUSE in the Park is a free programming series packed with art, performances, workshops, films, fashion, and many other inspiring events and experiences.
Visit indiansummerfest.ca for more event information and schedules.
Member Perk
The Museum of Vancouver (MOV) is opening its doors and sharing in the ISF's journey toward Reconciliation. To support the event, the MOV will extend free access to the MOV on the opening night of the PAUSE Pavilion (Friday, July 6). Vancity members and a friend can also get 50% discounted admission to the MOV any day until the end of 2018. Just show your Vancity MEMBER CARD® debit card or Vancity enviro™ Visa card at the ticket counter to receive discounted entry for you and your plus-one, and enjoy exploring the MOV's specially curated Musqueam and Haida First Nations exhibitions.
Learn more about Vancity's partnership with the MOV.