Call for nominations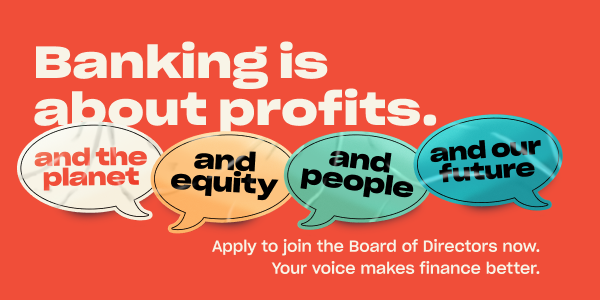 Three director positions available
The Nominations and Election Committee invites nominations of eligible Vancity Members to fill three Director positions in the 2023 Election. Of the three positions available, only one incumbent Director is seeking re-election.
Each position is for a three-year term, commencing at the end of the Annual General Meeting on Wednesday, May 10, 2023.
The 2023 Vancity Board Election opens at 8am Tuesday, April 11 and runs through to 4pm April 28, 2023.
We're looking for
At Vancity, our vision is a transformed economy that protects the earth and guarantees equity for all. That means we use our profits to do what's best for people and the planet. Each leader on our Board of Directors needs to be committed to this vision, and eager to fulfill their governance duties as part of a financial force for change.
For our upcoming 2023 Board of Directors Call for Nominations, we're seeking prospective candidates who have strong communications skills, effective judgement, and respect for others — in addition to the other attributes and experience set out in our list of Desired Director Attributes and Experience and the focus areas for 2023.
As a member of our Board of Directors, you'll spend approximately 40 - 50 hours per month preparing for and attending meetings, strategic planning sessions, Director development opportunities, and community events. These meetings and events may take place during regular business hours, on weekday evenings, and/or on weekends. If you're passionate about helping build a clean and fair world, this commitment is an excellent way to pursue what matters to you, meet likeminded people, and help contribute to a financial force for change.
Next steps and key dates
If you are interested in being nominated:
Download and read through the documents below which contains the relevant forms and guidance on how to become a candidate:

Becoming a Candidate (includes the Acceptance of Nomination form, Candidate documents checklist, and Key Dates)

We strongly encourage you to attend the candidate information session on Thursday, November 24, 2022 at 5pm. You can register for the Zoom session through clicking the link here.

Complete and submit all forms to election@vancity.com
by the noon deadline on Friday, December 9, 2022.

Ensure you are available on the following dates for interviews with the Nominations and Election Committee:

January 16 - 20, 2023 (evenings)
January 21 - 22, 2023
January 23 - 27, 2023 (evenings)
Diversity, equity, and inclusion are important to us for ensuring a fair process for individuals with varying abilities. Let us be of assistance if you have accessibility or accommodation needs to help you through the nomination process.

Please contact Vancity's Governance Office at election@vancity.com or 604 877 7595 as we would be happy to assist to the best of our ability.