Annual General Meeting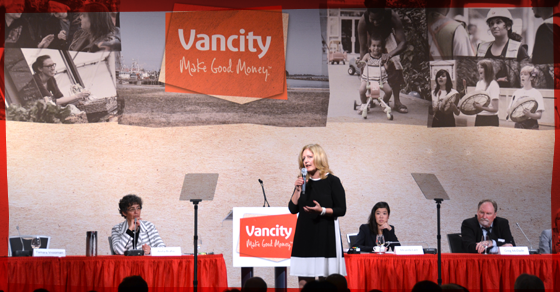 The Annual General Meeting (also known as the AGM) is a legally required, member meeting that takes place every year. The Board and Chief Executive Officer present the Annual Report, Ordinary and Special Resolutions, and a brief overview on Vancity's performance and strategy.
When
The 2020 AGM will be held on Monday, June 15, 2020 starting at 7 pm.
How to participate
Given the situation around COVID-9 and physical distancing requirements, Vancity will not hold an in-person AGM this year.
You are encouraged to watch and participate remotely:
through our AGM app (LUMI) or
through your web browser
Once you log in with your MEMBER CARD® debit card number, you would be able to vote on resolutions and ask any questions you have for our Board and Executive Leadership Team.
To participate, refer to the AGM remote viewing and voting page for detailed instructions.
What to expect at the AGM
The agenda is more member-focused, allowing for greater discussion between members and the credit union's leadership, and includes:
a report from the Board of Directors
a report from the Chief Executive Officer
a report from the External Auditor
the results of the Board of Directors' Election, and
opportunities for members to ask questions.
Door prizes
By participating in the AGM, all registered members are automatically entered for a chance to win 1 of 2 $500 enviro™ Visa* Gift Cards1.
1 For official contest rules, visit vancity.com/AGMContestRules