Annual General Meeting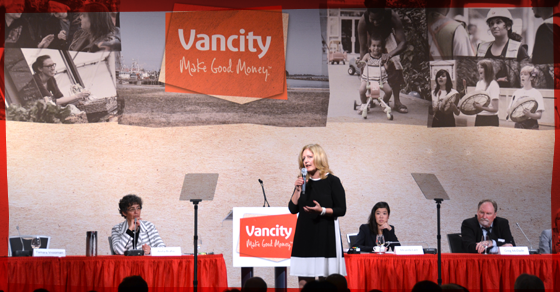 The Annual General Meeting (also known as the AGM) is a legally required, member meeting that takes place every year. The Board and Chief Executive Officer present the Annual Report, Ordinary and Special Resolutions, and a brief overview on Vancity's performance and strategy.
When
The 2019 AGM will be held on Tuesday May 14, 2019.
Registration starts at 5:30 p.m.
Business meeting starts at 7:00 p.m.
Where
The 2019 AGM will be hosted at The Anvil Centre, 777 Columbia Street, New Westminster (Google Map)
What to expect at the AGM
The agenda is more member-focused, allowing for greater discussion between members and the credit union's leadership, and includes:
a report from the Board of Directors
a report from the Chief Executive Officer
a report from the External Auditor
the results of the Board of Directors' Election and special resolutions
opportunities for members to ask questions
Watch the AGM webcast