Annual General Meeting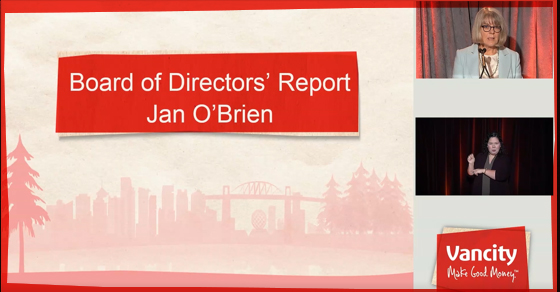 The Annual General Meeting (also known as the AGM) is a legally required, member meeting that takes place every year. The Board and Chief Executive Officer present the Annual Report, Ordinary and Special Resolutions, and a brief overview on Vancity's performance and strategy.
When
The 2021 AGM date is to be announced.
Registration starts and 5:30 p.m.
Business meeting starts at 7:00 p.m.
Where
The 2021 AGM date is to be announced.
What to expect at the AGM
The agenda is more member-focused, allowing for greater discussion between members and the credit union's leadership, and includes:
a report from the Board of Directors
a report from the Chief Executive Officer
a report from the External Auditor
the results of the Board of Directors' Election, and
opportunities for members to ask questions.
Voting App (LUMI)
To participate in our AGM voting, refer to AGM remote viewing and voting to set up your mobile device.
Watch the recorded 2020 AGM webcast