Annual General Meeting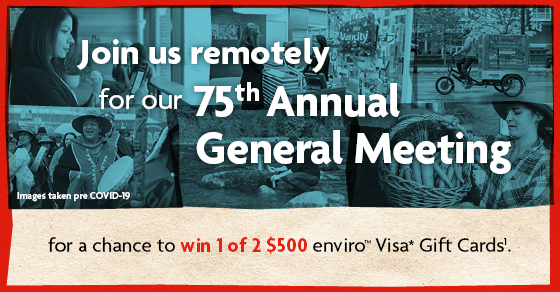 The Annual General Meeting (also known as the AGM) is a legally required, member meeting that takes place every year. The Board and Chief Executive Officer present the Annual Report, Ordinary and Special Resolutions, and a brief overview on Vancity's performance and strategy.
When
The 2021 AGM will be held on Tuesday, May 11.
Pre-show starts at 5:45 p.m.
Business meeting starts at 6:00 p.m
2021 AGM Package
Download AGM meeting material: 2021 AGM Package
Where
The 2021 AGM will be held virtually through a webcast.
Voting (LUMI)
To participate in our AGM voting, refer to AGM remote viewing and voting for more information.
What to expect at the AGM
The agenda is more member-focused, allowing for greater discussion between members and the credit union's leadership, and includes:
a report from the Board of Directors
a report from the Chief Executive Officer
a report from the External Auditor
the results of the Board of Directors' Election, and
opportunities for members to ask questions.
1For official contest rules, see vancity.com/AGMContestRules