Enjoy $8 admission during weekends at The Fair and support the PNE's year round journey towards environmental sustainability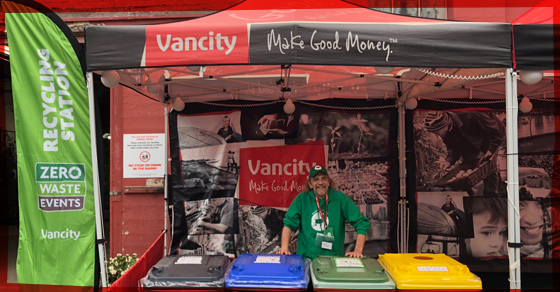 Vancity and the PNE celebrate 7 years of going green
With summer right around the corner, it will soon be time to enjoy The Fair at the PNE!
Vancity has been proud to partner with the PNE for the past 12 years. For the last 7 years our partnership has focused on helping The Fair green its operations and become a sustainability leader.
In 2018, we started working the PNE to incorporate the successes from The Fair into their year-round operations, focusing on improving back-of-house sorting, increasing diversion containers, and switching to 100 per cent compostable single-use items.
With a goal of increasing year-round waste diversion by 3-5 per cent each year, we achieved 71 per cent overall waste diversion—a 5 per cent increase from 2017.
Of course, we couldn't have done this without our community partners. Through strategic partnerships with organizations like The Binners' Project—a social enterprise that saw an expanded role in 2018—and by asking fairgoers like you to pitch in, The Fair at the PNE has achieved the kind of sustainability successes that make it a model for the industry.
Enjoy $10 off your Fair admission
We've heard you—you love The Fair at the PNE. That's why we're once again thrilled to be offering discounted Fair admission to Vancity members—during select times.
To get your $8 admission (a $10 discount) to The Fair, simply present your Vancity MEMBER CARD® or enviro™ Visa card, and a piece of ID at the PNE gate between 11 am and 1 pm on Saturdays, Sundays, and Labour Day Monday.
Not a member? No worries. Signing up for a Vancity account has never been easier. Sign up online to get the perks of banking with our credit union, including your discounted Fair admission.
Vancity Marketplace
At Vancity, our community partners play an integral role in bringing our Make Good MoneyTM brand to life. This year we've created the first-ever Vancity Marketplace at The Fair as an opportunity to showcase our community partners. Look for us outside the PNE Marketplace by Festival Park from August 20 to 25 and learn more about our many amazing partners, including:
Event details
The 2019 Fair at the PNE takes place August 17 to September 2 (closed August 19 & 26). Gates open at 11 a.m.
See you at The Fair!