An evening with John Fullerton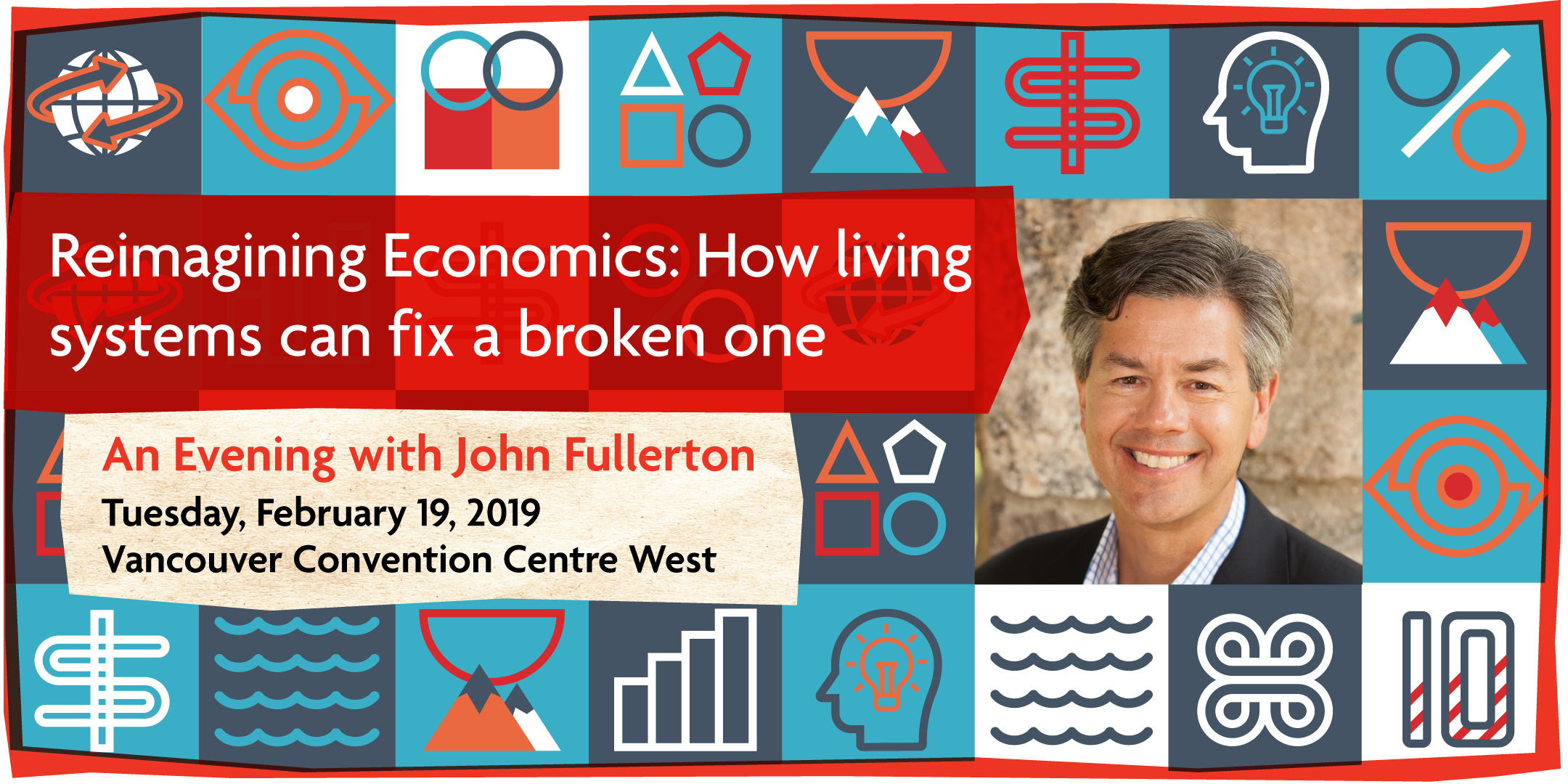 An evening with John Fullerton
Reimagining Economics: How living systems can fix a broken one
We live in a globally entwined economic system. But it's on a collision course with the finite boundaries of our world. Relentless growth has consequences, and we're seeing those in the ever-widening wealth gap, effects on climate change, and social displacement—among other crises. Our finance-driven economic system is in urgent need of transformation.
Might Regenerative Economics be just the solution we are looking for? Guided by universal patterns and principles that describe how all healthy living systems that sustain themselves in the real world actually work, the promise of Regenerative Economics is to unlock the profound (and presently unseen) potential that is the source of our future prosperity and the reason for hope in our troubled times.
Join us for an evening with John Fullerton as he lays out a path to a healthier economic system.
Enjoy $5 off tickets for Vancity members
For Vancity members, enter promo code 'Vancity5' to receive your $5 admission discount.
(Regular tickets: $15)
Register to attend
Date:
Tuesday, February 19, 2019
Location:
Vancouver Convention Centre West — 1055 Canada Place
Time:
6:00 - 7:30 pm Vancity Community Marketplace
7:30 - 9:00 pm Keynote event
Keynote speaker: John Fullerton
John is an unconventional economist, impact investor, writer, and, some have said, philosopher. Building on and integrating the work of many, he is the architect of Regenerative Economics, first conceived in his work Regenerative Capitalism: How Universal Principles and Patterns Will Shape our New Economy.
After a successful 20-year career on Wall Street, John listened to a persistent inner voice and walked away from this financial mecca to form the Capital Institute, an organization dedicated to the bold reimagination of economics and finance in service to life.
This conversation will be hosted by CBC award-winning journalist, Laura Lynch.
Vancity is proud to present this public event as part of the first-ever Global Alliance for Banking on Values Summit, a gathering of banking leaders from around the world committed to advancing positive change in the banking sector so that it supports social, environmental and economic sustainability. Click here to learn more about Vancity's commitment to values-based banking.

Vancity Community Marketplace & Token Program
This event will also feature a Vancity Community Marketplace, showcasing Vancity members who contribute to social justice and environmental sustainability through their impact business models.
Through interactive displays, event guests will have an opportunity to engage with local organizations and learn about the ways these businesses are actively transforming their communities. All event guests will receive a $5 token to redeem a small gift from some of the marketplace vendors.
We hope to see you there!
For Vancity members, enter promo code 'Vancity5' to receive your $5 admission discount.
Register to attend