Call to Artists: 2018 opportunities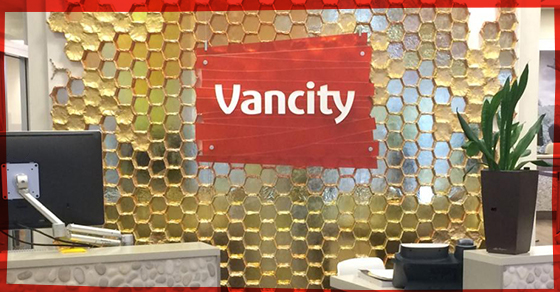 Our vision inspires us to think differently about wealth—to re-envision prosperity as something we can only achieve if we're surrounded by and connected to a vibrant and diverse community. Our values-based banking model is grounded in the local economy because we believe you truly prosper when you're connected to a healthy community.
There is currently one art call for visual artists and artist teams living or working in the Vancity service area. This art call aims to engage the local art community in representing Vancity's values and the community-focused aspects of Vancity's branch experience.
Since 2012, Vancity has launched twenty-two public art calls for art commissions in conjunction with branch remodel, relocation and renovations projects. Several art calls are planned for 2018. Please see information below on the art call that is now accepting applications.
Now accepting applications
Newton community branch (branch 27), Surrey, BC
Vancity is now accepting applications of expressions of interest (EOI) from artists or artist teams who live or work in the Squamish Valley, Metro Vancouver and the Fraser Valley for this branch. We encourage artists and artist teams to review the art call requirements and then visit calltoartists.ca to register and apply online.
The Newton community branch art call will be open for submissions until 11:59 am on Thursday, March 22, 2018.
Announcements of selected artists
Abbotsford community branch (34), Abbotsford, BC
Artist Amy Baumann strives to cultivate a deeper understanding and respect for nature, traditional lifestyles and community through her art practice. Having lived in several countries in both rural and urban centres, Amy incorporates natural materials, social imagery and geometric forms into her artwork to depict the connections and important relationships between land and peoples.
Chinatown community branch (28), Vancouver, BC
Artist Michael Binkley creates a wide variety of figurative, abstract and wildlife works in local stone and idiom. As an artist, Michael is committed to creating sculptural works of art that can be explored through touch, a sensory experience that is often limited in the experience of artwork. Michael's exterior sculptures for the Chinatown community branch will collaboratively explore stories and forms of both Indigenous and Chinese narratives as well as acknowledge interior elements of the original Chinatown community branch designed by respected local architect, the late Joe Wai.
Point Grey community branch (22), Vancouver, BC
Local visual artist John Ferrie was raised in Point Grey and has a real appreciation for the community. For over thirty years, John has committed his art practice to visually communicate the vivid stories of the west coast. His art works are large scale, bold and engaging. For this art commission, John will showcase the bustling and diverse Point Grey community in his vibrant painterly style.
Chieftain Centre community branch (81), Squamish, BC
Interdisciplinary artist Jaymie Johnson creates site-specific artworks that explore the connections between art, environment and community. Her art practice is collaborative and community-engaged. She uses various natural and recycled materials to hand craft components used in her work. Central aspects of Jaymie's art commission will use local and traditional fibre and weaving techniques that will be shared and practiced during public workshops within the community of Squamish.
Artwork design for exterior mosaic, Vancity Centre, Vancouver, BC
Artists Sarita Baker, Rob Martin and Shane Point, proud Musqueam band member, came together through a shared belief that cultural collaboration is an effective path to Reconciliation. Their team, GreenLight, sees themselves as a microcosm of a greater social movement- coming together to heal and share this essential process as a community through diversity, creativity and learning from each other. Their selected design called 'We are One' features celestial and earthly forms embraced by diverse cultures, working together as guides towards a new place of healing, unification and understanding.
New Westminster community branch (61) , Vancouver BC
Pilar Mehlis and Sonya Iwasiuk's artist team, Heads and Tales create collaborative installations reflecting on communities; their history, ideals, aspirations and hopes. Their multimedia commission for the New Westminster community branch will incorporate paper, acrylic media, wood, lighting and upcycled materials to share a transformative story crossing timelines and geography, acknowledging New Westminster's Indigenous peoples, landmarks, diversity and growth.
North Vancouver community branch (21)
Artist and photographer, Sharon Tenenbaum creates multimedia artworks using recycled materials and innovative imagery to portray nature, urban landmarks and community leisure. Sharon's commission for the North Vancouver community branch will playfully explore life and activities amongst the North Shore mountains.
Fraser Street community branch (7), Vancouver, BC
Artist team Concealed Studio creates artwork that speak to the layers and diversity that form a strong Fraser Street community. Using light, print design and geometric shapes, Concealed Studio's work will also pay homage to the neighbourhood theatre that once stood in the building where the Fraser Street community branch now stands.
Marpole community branch (14), Vancouver BC
GreenLight is a multi-cultural artist team that collaborates on projects that support reconciliation and the betterment of community. Using indigenous wood, imagery and organic shapes, GreenLight's commission will pay tribute to the life and importance of the Fraser River, the Musqueam people who were its first settlers and the diverse cultures that presently create the vibrant community of Marpole.